All of today's major sports miss the spiritual point — In baseball, you run 90 feet at a time. In basketball, you run back and forth on a 75′ court. In football, you may be pushed for 100 yards.
We are stirred by the moment … by the spectacular demonstration of an instance of athleticism. A dunk or a block in basketball, an acrobatic catch in football, a hard hit in hockey, and an amazing catch or long home run in baseball.
Quadrennially, the summer Olympics is spotlighted by the track and field events. The largest attention is given in America to the shortest races – the 100 meter and the 110 meter hurdles. It seems that as the distances increase, the interest in the race by the American media decreases proportionately. Historically, that was not always true.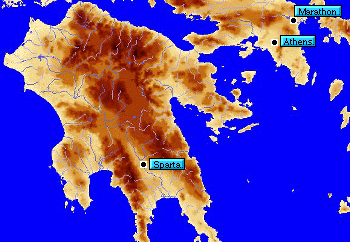 In the 5th century B.C., the Persians invaded Greece, landing at Marathon, a small town about 26 miles from the city of Athens. The Athenian army was seriously outnumbered by the Persian army, so the Athenians sent messengers to cities all over Greece asking for help.
The traditional origin of the marathon comes from the story how a herald named Phidippides ran the 26 miles from Marathon to Athens to announce the Greek victory and died on the spot. Phidippides was sent by the Athenians to Sparta to ask for help; a man named Eukles announced the victory to the Athenians and then died. Later sources confused the story of Phidippides, also called "Philippides," with that of Eukles. Although most ancient authors do not support this legend, the story has persisted and is the basis for the modern-day marathon.
It is this kind of marathon that is in the mind of the writer of Hebrews when he pens: "Let us throw off everything that hinders and the sin that so easily entangles, and let us run with perseverance the race marked out for us." Hebrews 12:1. Or later, as he add: "Therefore, strengthen your feeble arms and weak knees" (12:12).
The Christian life is more like the Boston Marathon, than a 40-yard sprint. Annually, thousands leave the starting line exhilarated at having begun the race, but as the miles added up the course would take its toll. Just as these runners would begin hitting the wall at the 20.5 mile mark, they would face their most menacing challenge, Heartbreak Hill. The next half mile, an incline that would be hard enough to run on its own, but after 20 miles is a battle. They would either determine that they would keep moving forward, or the hill would win. Many a runner has found themselves quitting, defeated by the Hill.
While some Christians may act as if the Christian life is a leisurely walk in the park. It is not a even 40-yard sprint. It is a grinding marathon that tests the endurance of our faith. As he continues on with the chapter he draws out the implications of the perseverance that must be necessary to complete such a race. It is a race fraught with challenge, pain and suffering.
Jesus is elevated as the model for our running. He pioneered the faith trail that we run, and ran it to completion. What does that mean? He never quit. When he reached his Heartbreak Hill it was called by another name, the hill of Golgotha. Even when reaching the finish line meant running through the most demeaning form of execution of his time, his pace never flagged. He continued to pick them up and put them down.
But we can find it easy to shift our focus off of Jesus, and onto other believers. We exchange the excellence of Jesus completed race for settling for beating out others, or even worse, just aspiring to run with the pack. I can come out looking pretty good, if I compare my spiritual fitness to those around me. But in comparison to Jesus, I am reminded of the training that I still need to complete.
That is why the author wrote, "Consider him who endured such opposition from sinful men, so that you will not grow weary and lose heart" (12:3). Here he is talking about "hitting the wall."
I have never run a marathon. The most I ever worked up to was 6 miles when I was a freshman in college. But I remember as I was beginning to stretch it out, I would hit the first wall at 3 miles. My legs would begin to ache, and my breathing would get labored. The thought would hit me, "Just stop". But I would keep on running. At about 5 miles I would be confronted with wall number 2, my legs would begin feeling like jelly, and my steps would be a bit less sure. I was feeling the Hebrews writers "weak knees." Again, I would hear that voice whisper, "You've gone far enough. Walk the rest of the way." But I would keeping pushing on. And the more I ran, the softer the whisper became, until it was completely hushed.
Some of us have run through our Christian life as if it were a series of sprints. We run for a bit. Get off the track. Grab something to drink. Catch our breath. Work out the aches, or let them have time to heal … and if we get around to it we might take another jog around the track.
The Christian life is about perseverance. It is about pushing past "the wall." It is about continuing to step forward in faith when every voice around us is screaming, "Just give up."
Our "walls" are different. Our walls may be the emotional pain of a past that haunts us. They can be the opposition that we receive to our faith by our family. It may be the ridicule heaped on by fellow students or co-workers. It may be the struggle to leave behind some sins that have dug themselves deeply into our soul. It may be trusting God is faithful when circumstances don't seem to give you any evidence that he can be trusted.
What is your wall? When you seem to be running well, what is it that pops up in your way … that presents a challenge that drains you and batters your faith leaving you fighting for the energy to take one more step? What is it that pulls you off course, and out of the race?
You can run the course. You can finish the race. It will not be easy. It will take hard work. Sometimes you will feel like quitting, or wonder whether it is worth it. But keep on going … no hill can defeat you if you chose to persevere.
— Pastor Steve
---
It is time that we obliterate the false dichotomy between faith and works!
Martin Luther, at the dawn of the Reformation, coined the phrase, "Solo fides" – faith alone. The phrase sprang from his study of the book of Romans, in which he discovered that salvation is imputed upon a believer based on a response of faith, and not by any spiritual or moral action conducted on the part of the person.
At the same time, the Roman See was conducting a capital campaign in order to complete the construction of St. Peter's Basilica in Rome. One German monk, Johann Tetzel, had proven himself extremely proficient at raising funds through the sale of indulgences. These indulgences were the presumed superabundant leftover merits of prior saints, which the Roman Catholic Church had banked, and would make available to those who desired to reduce their time in purgatory. Tetzel, himself, advocated that "each time a coin in the chest would ring, a soul from purgatory would spring." Innocent victims of this huckster would gather in crowds to purchase these indulgences for themselves and family who had passed.
Luther considered Tetzel's selling off of God's grace a complete distortion of Christian theology. The phrase "Sola fides" emphasized that there are no actions that we can accomplish that will enact salvation on our or other's behalf. We were and are saved by faith, apart from any work to obtain it.
However, over time the concept of "Sola fides" morphed into a theological position that I believe Martin Luther would not have recognized. A strain of today's "faith only" theology teaches that since we are saved by faith, and that faith is even a gift imputed by God, works are inconsequential. Faith has absolutely no association with a life of morality or service. Faith can devolve into nothing more than a momentary intellectual acknowledgement. If a person responds to God in faith, it does not matter what they do with the rest of their lives … they can live like hell because heaven is already guaranteed.
The idea that faith and works are, not only two separate manifestations, but two manifestations that have no relationship, connection, or association does not ring true with the words of Scripture.
James responds to such a theological position that seeks to validate faith by a simple statement and a wave of the hand … "I have faith. That solves it!" … by asking to see it! He further presents his argument by saying, "You show me your faith, and I will show you my faith by my actions." He concludes his argument with the powerful axiom, "Faith without works is dead."
James clearly thought that there was a decided connection between faith and works. Does that mean that James thought that he earned his salvation by his works? No. But he did believe that faith that did not support itself with actions was nothing more than a lifeless relic, if it was ever faith at all.
The most famous faith chapter in the Bible, Hebrews 11, supports James' contention that faith is always accompanied by supporting actions. Often this chapter is looked at like a Biblical Hall of Fame, a series of heroic characters and the chronicle of their exploits. Anybody familiar with the chapter is aware of the repetition of the phrase, "By faith …" The phrase occurs 17 times in a 29 verse stretch. Sixteen times these phrases introduce statements of faith articulated by actions.
By faith Abel … offered.
By faith Noah … built.
By faith Abraham … obeyed and went, offered Isaac as a sacrifice.
By faith Moses' parents … hid him.
By faith Moses … refused, left, kept the Passover.
By faith the people … passed through the Red Sea.
By faith Rahab … welcomed.
Each one of these chronicles is faith put in action, faith lived out. According to the Hebrew writer, faith is only faith when it is put in action. Not a single one of the statements represents faith as an intellectual exercise, or a philosophical or theological acknowledgement. According to these statements, faith is at least as much a practical reality as it is a more a propositional statement. Every chronicle includes an activity that substantiates the presence of faith.
If you are a person of faith, you have a "by faith" statement. It may be as simple as one of mine, "By faith Steve, even though he possessed an overwhelming fear of speaking in public, became a herald of God's message in the preaching/teaching ministry."
Maybe your statement is "By faith …
Forgave the sins that were committed against her by her family, and surrendered all of the resentments that accumulated over the years.
Determined to shorten the hours he spent at work, realizing that his first ministry was to his family, and any amount of success would not balance failure at home.
Told his friends, "I have made a decision that I am not going to talk like that anymore, and I would ask that you respect that."
Volunteered to help the older couple down the street with some needed home repairs, as an expression of God's love.
Moved the computer into a family access area, so he would have the accountability he needed to help relieve the temptation to feed his lust by frequenting pornographic sites.
Reached out to her neighbor and invited her to church.
Quit his job because it required him to make questionable moral calls.
Gave a permanent home to a child without "a place to call home" and became their family.
The options are innumerable. If you spend a moment reflecting on it, you will probably find that you have more than one. Think through all of the life transformations that faith has brought into your life. Put a verb on them. Write them out. Celebrate that faith has been at work in your life.
If you are having trouble putting together a list, it is not too late to begin. Start writing your list today. Decide on one thing that will change because of the faith that you claim, and by faith live it.
— Pastor Steve
---